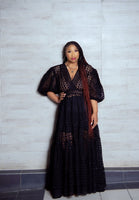 About La Forme...
Celebrity Wardrobe & Personal Stylist Kimberly Williams is the creative force behind the brand La Forme. As a stylist of mostly plus-sized and curvy women, Kimberly felt a void in the fashion industry of classic, functional, and quality garments. The goal in creating La Forme is to accommodate every body type by offering standard sizing as well as custom sizing for customers that prefer a personal fit.

La Forme or "the shape" translated in English, is a line of clothing entirely manufactured in Africa. The fabrics are hand-picked and sourced in Nigeria and Benin Republic. Each item is created with extreme gratitude and precision to ensure the highest quality of manufacturing. 
Shop Now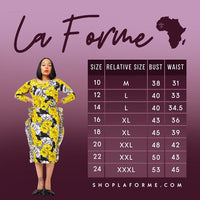 Plus Size Womens Clothing Guide
La Forme Size Chart can help you work out any sizing inquiries. If you have more questions about our clothing or sizes please do not hesitate to contact us at info@shoplaforme.com.